Als projectleider dank ik STMG, Santé Partners (STMR), Thuiszorg Groot Gelre (DrieGasthuizenGroep), Attent Zorg en Behandeling, Innoforte, Pleyade, Vreedenhoff en Insula Dei/Huize Kohlmann voor de fijne samenwerking.
Ceciel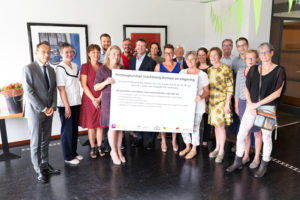 Arnhem – Vanaf 31 augustus 23.00 uur is het voor alle 440.000 inwoners in Arnhem en omgeving mogelijk om 's nachts niet uitstelbare zorg thuis te krijgen. Het bieden van kwalitatief goede, snelle en vakkundige nachtzorg in acute situaties lukt door een bijzondere samenwerking tussen acht zorgorganisaties. Zij werken binnenkort intensief samen in één regionaal team.
In Nederland maken steeds meer mensen overdag gebruik van thuiszorg. Bijvoorbeeld na een ziekenhuisopname of bij een (langdurige) ziekte. Daarnaast zijn er steeds meer senioren die ondanks een beperking in het dagelijks leven langer thuis kunnen wonen omdat zij thuiszorg ontvangen. Deze klanten kunnen in de nacht plotseling zorg nodig hebben. Voor deze mensen hebben de organisaties STMG, Santé Partners (STMR), Thuiszorg Groot Gelre (DrieGasthuizenGroep), Attent Zorg en Behandeling, Innoforte, Pleyade, Vreedenhoff en Insula Dei Huize Kohlmann de handen ineengeslagen. Tussen 23.00 uur en 7 uur zijn er twee nachtelijke routes voor alle ongeplande zorg die niet kan wachten tot de volgende ochtend.
Klantgerichtheid en kwaliteit van zorg staan voorop
Fred van der Heijden, bestuurder van STMG geeft aan: "Wij zijn er trots op dat we er gezamenlijk óók in de nacht kunnen zijn voor onze klanten wanneer zorg niet uitgesteld kan worden. De kwaliteit van zorg is ons hoogste goed. Door dit samen te organiseren ontstaan er win-win situaties voor iedereen. De voordelen voor de klant zijn het meest relevant. Samenwerken maakt dat klanten die thuis wonen, de juiste deskundigheid en kwaliteit van zorg krijgen. Voor de mantelzorger leidt het tot een lagere belasting. Samen hebben we meer expertise en kunnen we meer betekenen. Vanuit efficiëntere zorg dragen we hiermee bij aan het betaalbaar houden van de zorg. De nauwe samenwerking met de huisartsenpost is ook fantastisch. We gaan zelfs gebruik maken van hun locatie."
Cliëntenraden betrokken en buitengewoon erkentelijk
Als vertegenwoordiger van de gezamenlijke cliëntenraden geeft Cees Barské aan: "Wij zijn buitengewoon erkentelijk voor dit initiatief van deze acht zorgorganisaties. Het betekent dat er in alle situaties waarin niet gewacht kan worden tot de volgende ochtend, er een passende oplossing is. Zodat klanten snel en adequaat kwalitatief goede zorg ontvangen."
Eén regionaal nachtteam heeft veel voordelen
De voordelen van één regionaal nachtteam liegen er niet om. Samen maken de organisaties niet uitstelbare zorg in de nacht voor thuiswonende klanten mogelijk. Voor de individuele zorgorganisaties zou dit onhaalbaar zijn. Onder andere het inzetten van de juiste deskundigheid bij elke zorgvraag verhoogt de kwaliteit van zorg. Daarnaast is er sneller hulp mogelijk voor onverwachte zorg die niet tot de volgende morgen kan wachten. Deze snelle adequate zorg leidt tot een verlaging van de belasting van de mantelzorger. Klanten kunnen langer thuis blijven wonen of ze kunnen eerder vanuit het ziekenhuis naar hun eigen huis. Eén regionaal team is efficiënter en daarmee goedkoper én de samenwerking met de huisartsenpost verbetert.
In de praktijk waarmaken
Ank de Lange werkt in dit nieuwe nachtzorgteam. "Voor mij betekent het dat ik uitkijk naar de samenwerking met de huisartsenpost. En ik vind het belangrijk en fijn dat klanten voor zorg die echt niet kan wachten, een beroep op ons kunnen doen." Gerben Hoegee uit het nachtteam vult aan: "Het is fijn om in hetzelfde gebied elkaar niet meer als concurrent te zien, maar samen te werken waardoor je efficiënter kunt werken." Elke zorgorganisatie heeft zijn eigen klanten ingelicht over deze nieuwe samenwerking.